AQA Solution-a complete ERP for Business, schools, colleges and institute
AQA Solution is an advanced cloud based ERP platform with integrated Mobile App suitable for schools,colleges and private educational organisations.It's a platform designed with a though of providing simple,easy to use and effective platform for management,teachers, students, parents and other stakeholders of an educational institute. It can be used for single branch to multiple branches through a single account credentials to make it suitable for institutes with many different branches operating at different locations.
If you are looking for All in one ERP, don't just go through number of modules in it, but also depth of each module, look and feel, user experience etc. Watch the live demo to get overview about AQA Solution. We have taken care of each small need, reports and tried to make it as simple as possible for you.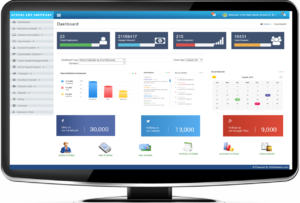 Features that can blow your mind!
Perfect Integrated ERP Features with Cloud Based/Android
HR & Staff Management
   Employee Management
   Staff Attendance
   Payroll & Salary
   Leave Management
   Loan Module
   Promotion/Transfer
   Vacancy Management
   Appraisal
   SuccessFactors
Reports & Analytics
   40+ Custom Reports
   Exam, Attendance Reports
   User Data Reports
   Fee Reports
   Inquiry Reports
   Staff & HR Reports
   Daily Summary
   Library/Book Reports
   Vehicle Tracking Reports
Academic System
   Time-Table
   Lession Planning
   Homework
   Store/Document Library
   Classwork
   Paperless environment
   Parent involvement is strong.
   Events and Activities
   Announcements
Accounts System
   Simplification
   Cost savings.
   Full financial transparency.
   Accurate forecasting.
   Productivity
   Tax compliance.
   Provide reports to your Accountant/CA.
   Security
Fee System
   Due Fee Report
   Payment Report
   Discount Report
   Fee Refund Report
   Bank Payment
   Collection Center Report
   Discount Reason Report
   Fees Master Reports
   More
Payroll System
   Employee Master Profile
   Empolyee Attendace Updation
   Shift Off Day Master Profile
   Holidays Profile
   Leave Master File
   Employee Leave Process
   Employee Indivdual Attendance
   Security Depost Process
   More
Sms System
   Parent's Inform
   To Send Exam Results Notification
   Admission Confirmation SMS
   Special Class Timings
   Meeting Timings/Important Dates
   To Send Messages For Fee Related
   Communication Between Schools And Parents
   School Hoilday Notification
Transport System
   SMS To Parents Bus Or Route Wise
   Transport Allocation To Students
   Driver Profile
   Student List by Van&Area
   Receivable Monthly By Driver Group
   Receivable Monthly Report
   Defaulter Paid/report
   Area Profile
   More
Android Application
   School ERP Software Module
   Management Systems
   Fee System
   Payroll System
   Account System
   Academic System
   Transport System
   Sms System
   More
Examination System
   Create Examination Title
   Create Subject Title
   Award List
   Primary/Secondary Remarks
   Examination Attendence
   Master Sheet/other Report
   Progress Report
   Result Analytics
   More
Security
   Enhanced Security Feature Available
   Encrypted Password Facility
   Backup Database Section
   Module Level Security Is Provided
   User Role Creation & Attach Rights To Roles
   Attach Employee To A User/Login Name
   Backup Database Section
   More
Data Management
   Backup Data Facility
   Password Protected Database Management
   Available Student Emergency Contact Records
   Current And Previous Employee/Student Data Available
   Simply Add, Edit And Delete Any Data
   Import Data In Excel As Well As Word File
   Centralise Data Management For Multiple School
Time Table
   Set Table
   Set Week Day
   Set Hours
   View Time Table
   More
Student Card
   Student Card
   Student Card Report 2
   Employee Card Report
   More
Report Card
   Administration Report
   Enrolled Report
   Report Analytics All Campus
   More
Settings
   General Settings
   My Profile
   Course Management
   Batch Management
   Subject Management
   Student Category
   Leave Management
   Event Management
   More
Fixed Assets Management
   Asset Description
   Asset Category
   Asset SubCategory
   Manufacture
   Contractor
   Asset Transfer
   Asset Dispose Off
   More
Finance
   Fees Category
   Set Fees Peroid
   Fees Collection
   Fees Paid/Unpaid
   More
All ERP Software
ERP provide visibility, analytics, and efficiency across every aspect of a business. Using the latest technologies, ERP systems facilitate the flow of real-time information across departments